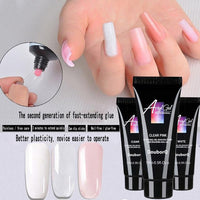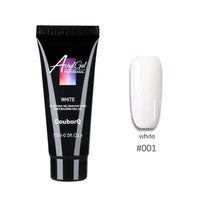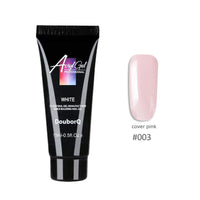 shopelegance
PolyGel Nail Builder Gel Extension 15g
Product Description:
Polygel is one of the best nail enrichment when it comes about quality and functionality comparatively. This  PolyGel nail builder gel kit is high quality and termed as all-in-one-formula because it delivers strong, healthy and beautiful in no quick time due to addition of premixing formula. The one thing is pretty noticeable it is lighter than acrylic and hard nail gels which results in comfortable to wear during application process. Most importantly, it works great as nail extensions under UV/LED light. In order to get desired shape as well as upgrade nail look, it is well packed with six different color shades.
Product Features:
This  quick building nail gel is well packed in sleek size tube in liquid form in order to avoid any kind of wastage while applying.
With the use of slip solution liquid, stays exactly where it placed and nails can only treated well if there is usage of UV/LED lamp.
The one thing that differentiates other nail enrichment- it works it can only be filed off rather than soaking off.
It well packed with complete kit and availability of six different sheer shades in order to keep nails beautiful and strong.
It is perfect for both professional and home use and women can make maximum use of it on regular basis. 
      Package Included:
1 -15ml Poly Gel Nail Extension Builder Gel